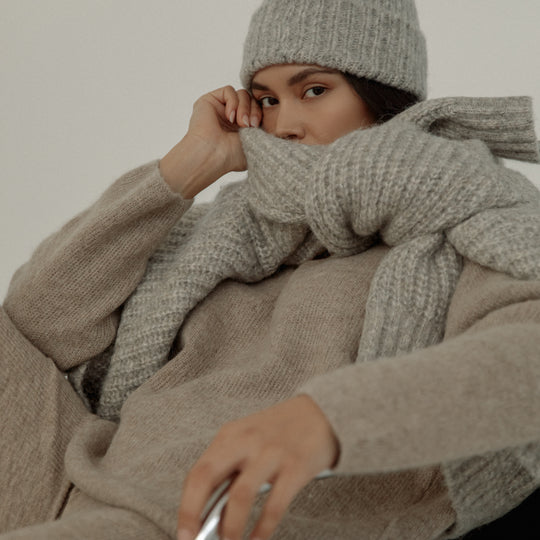 We believe in a minimal yet thoughtful approach to design; removing the un-necessary and leaving only the high quality essentials for an intentional life
From Peru to you
The Story of Bare
In 2012 the first Bare Knitwear collection was created from a small studio on the West Coast of Canada. As the brand expanded the search began for honest, small-scale production, sustainable fibres and artisan craftsmanship. This led to the exploration of the rugged landscapes of the Peruvian Andes, known for their high quality fibres and talented artisans. 
After weeks spent working with local producers in remote regions, the production finally found its home in Ayacucho, a tiny Peruvian town tucked in the south central Andes. One evening in a hostel room high in the Andes the first collection order was written, forging a new path for the brand. 
Today, each Bare Knitwear garment is still brought to life by hand through a collaborative development process merging the ancient heritage of Peruvian techniques with modern design. The brand continues to work with small producers throughout Peru for the sourcing of their signature alpaca, wool and Pima cotton collections. 
The proudest achievement of all is the personal relationships the brand has forged with their partners who employ and empower local Peruvian artisans. Over time Bare has witnessed the difference quality employment can bring to a community, providing sustainable employment for local artisans and the opportunity for them to have true autonomy over their futures.  
We are committed to creating authentic, long lasting knitwear with high regard to ethics and the environment. We collaborate with Peruvian businesses who prioritize the well-being of people and the planet.
Ethical Production
Fibres & Sourcing
We value working with natural fibres native to Peru, such as baby alpaca, merino wool, and Peruvian Pima cotton. Natural fibres yield a softer environmental footprint than synthetics and are hypoallergenic, biodegradable and naturally antibacterial. The wool we work with has a free of mulesing certification and our suppliers hold the RAS (Responsible Alpaca Standard) and RWS (Responsible Wool Standard) certificate granted by the Textile Exchange.
Production Partners
We greatly value the relationships we have developed with our suppliers in Peru. Through annual visits, we developed a firsthand understanding of our supply chain allowing us to make informed decisions that support the growth of Bare Knitwear and our partners. We are committed to providing economic stability for each of our suppliers through sustainable and consistent growth year after year. 
Natural Materials: Un-Dyed
Alpaca and Andean sheep have beautiful coats in a variety of natural hues ranging from bright white to black. Where possible, we choose to work with un-dyed, natural materials. When dyes are used we select low-impact, OEKO-TEX certified dyes that are heavy metal and azo-free, ensuring consumer and environmental safety. 
The FOUNDER
Kelsey Adair
Founder and designer, Kelsey Adair started Bare Knitwear in 2014. The brand's effortless appeal and understated elegance are reflective of Kelsey's upbringing on Canada's West Coast. A strong connection to nature and her "less is more" philosophy transcends into Bare Knitwear's timeless aesthetic, natural palette, and easy silhouettes. 
Kelsey developed a comprehensive understanding of small business while working with Canadian designers in the fifteen years prior to starting her label. During this time Kelsey developed a passion for ethical production and a desire to combine luxurious textiles and modern design with artisanal craftsmanship. A life changing trip to Peru in the summer of 2014 laid the foundations of Bare Knitwear. Working with artisan groups in the Peruvian Andes taught Kelsey the intricacies of traditional craftsmanship, the beauty of sustainable fibres and the role Bare could play in empowering artisan communities.

Kelsey views the design and manufacturing process as collaborative and finds inspiration for Bare's heirloom knits through exploration of time-honoured manufacturing techniques. Dedicated to preserving the authentic feel of handmade knitwear, Kelsey attributes her discerning eye for textiles to the time spent working alongside world class artisans in Peru. She is proud to connect two worlds and believes that each garment tells a story of past and present.  
Our design process is rooted by a less is more philosophy. Timeless yet relevant we refrain from following the latest trend to ensure each garment we produce becomes an heirloom in your wardrobe.